Description of the working way
Select the program to be carried out.
Press the start button.
The working of the supplier is controlled by the process computer ELCA RAMPER that sets the output DC or AC phases, the ramp times, the output voltage values and the colouring times according to the parameters memorized in the selected program. By means of the ELCA RAMPER process computer up to 100 different programs can be stored. Each program can include up to 20 consecutive steps. Also the parameters of the AC waveform can be decided and memorized by the operator for each step independently.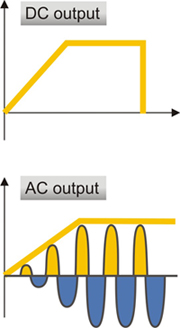 Each step includes:

Choice of the working way ( WT, DC phase, AC phase)
TR: Ramp duration
TP: Dwell duration
V: Final value
AC+ and AC- (duration of positive and negative half wave)
Therefore any working program can be obtained, as in the example: (four steps in one single program)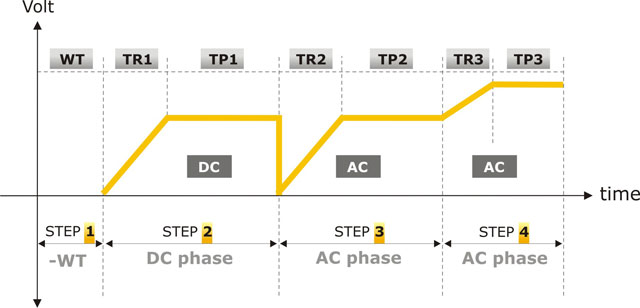 When the end of the cycle is reached, the lamp and the buzzer operate. The unit remains in PARTIAL STOP condition.
At this moment it is possible to operate according to the following 2 working ways:
START AGAIN: If an extension of the colouring time is needed; the unit supplies the same output AC voltage as before the partial stop. When the preset time is expired, the lamp and the buzzer operate again.
TOTAL STOP: by means of the proper button. It reset the unit.
The ELCA RAMPER process computer is equipped with serial port RS485 for connection to host computer (standard FIELDBUS protocols)
It can be provided with PRINTER on request
Data retention without supply and without back-up batteries.