Cooling:
Forced air cooling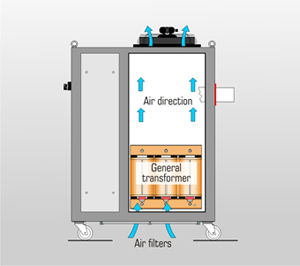 By means of electroventilators and air filters.
Air flow from bottom (cold air) through top / side (hot air)
Water cooling
Fresh water (sea water on request)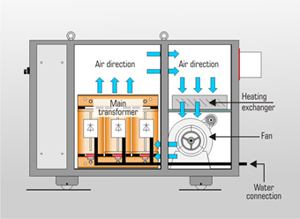 Must be supplied constantly during the working of the rectifier. The rectifier is provided with an independent internal hydraulic circuit, filled with demineralized water and consisting of:
n. 1 water/water Plate heat exchanger to interface the external hydraulic circuit with the internal one. The purpose of this device is to avoid that some impurities present in the external water can flow inside the rectifier components to be cooled.
n. 1 water/air heat exchanger for the cooling of the internal air (circulation by means of a proper fan.
n. 1 demi water tank provided also with:
minimum level alarm
temperature indicator with pre-alarm and trip
n. 1 water pump to make the demi water flowing through the SCR heatsinks and in the water/air heat exchanger.
n. 1 Deionizing cartridge to maintain the demi water conductivity very low.